History :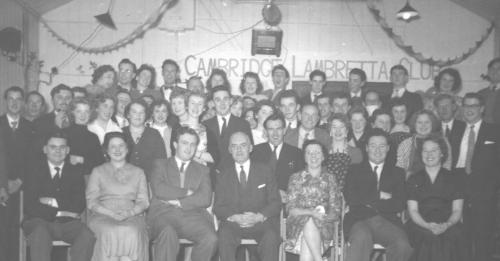 The City of Cambridge Lambretta Club was officially started way back in 1957 when a local owner, Mr David Sparrow wrote to B.L.O.A. (British Lambretta Owners Accossication) and asked if a local club existed in this area.
Mr H.J. Anothony the then secretary of B.L.O.A, wrote and told Mr Sparrow that one did not exist, but if a room was hired he would see what could be done about forming such a club. And so on Thursday 27th of June 1957, the first meeting was held in the "old spring", and its was quoted as "many people turned up"!.
During the next few years the club went from strength to strength, with the local main agent King & Harper supporting the club in many ways. When the first "Cambridge Lambretta Rally" was held in the Cattle Market after an earlier venue was withdrawn! Around 150 machines turned up, with various events and competitions being held during a very successful day.
Reading through the first newsletter, the club were very active in attending the many rallies held around the country, as well as inviting and attending the neighboring towns events. It would seem that each "local" club would take it in turns to invite the clubs around them to visit their town/city, with the host club laying on the days entertainments!
---


The following is taken from Doug Jones memories of the early days of Lambretta in Cambridge.
A School Boys Dream

Cast your minds back to 1953, I was at school in the fifth form, Gordon Richards at last won the Derby, Everest was climbed by Hillary and Tensing and the Coronation

The writer was still at school, and one of our masters arrived on a weird machine which was called a Piaggio Vespa, incidently nationally distributed by the Douglas company in Kingswood Bristol

It caused quite a stir amongst the fifth form, because we were approaching the legal age for us to obtain "provisional" license. Most of the boys were wishing to be potential "Geoff Dukes" so therefore had decided to purchase motorcycles. Being vertically challenged I decided that a scooter rider I would be, plus the girls would rather ride on a nice clean machine than a noisy dirty oily motor bike.

On my 16th birthday I got my provisional licence and proceeded to pass my test on my 17th birthday. During this time I noticed that another make of scooter was becoming more popular, it was called a Lambretta and looked bigger and more superior in performance, I was hooked. I owned and drove most marques for almost ten years (National service interupting). The Lambrettas were used for everyday use, club runs, and for holidays to the Continent, and even I was a member of a team that came second in the annual England 24hr reliability trial at Snetterton Rack Track in 1962, and have a medal to prove it. I was a member of four Lambretta clubs , and must say that we did have such good Innocenti (innocent) fun during my scooter years.

Potted history of the Lambretta. Innocenti of Milan started manufacturing scooters immediately following the World War II

Identifying the need for cheap mass transportation, the Lambretta was designed by a team headed by Pierre Luigi Torre, and took its name from the river Lambert that flowed by the factory. Early models relied on Innocenti's experience with steel tubing for industrial applications. It was only later in their history that Lambretta had enclosed engines and proper suspension. Intended as a practical utility transport the Lambretta was a complete success, with demand far outstripping supply. The United Kingdom was the top importer of Lambrettas and the distributors were the Trojan Company of Croyden Surrey (yes the company that made the Trojan Brooke Bond Tea Coy Vans). Later the scooter became a style symbolising the freedom of the post war ear, Happy Days

Doug Jones
---